Baby Shower Gift Etiquette
~Just What The Stork Ordered~
Baby shower gift etiquette is the best way to show your excitement in welcoming a beautiful bundle of joy. Baby showers are the place to 'shower' the new mother and her sweet baby with love and needed gifts.
Baby gifts can come in any shape or size. It is fun to shop for a baby, because there are so many different options available. You can buy the cute little clothes, blankets, toys, nursery items or diapers. Whether it is a boy or a girl or if the parents are waiting to know, you can always find something that will bring joy.
As you receive your invitation to the shower, it will more than likely have all of the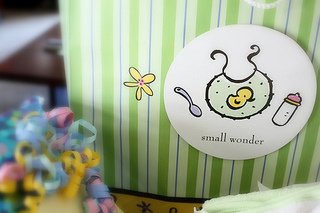 information you need to purchase a fun and much needed gift for the baby. If the new mom has registered, it will contain that information. It should also let you know if the baby will be a boy or a girl. Again, sometimes the parents like to wait to find out, so you will have to be creative with your baby shower gift etiquette.
Baby gift etiquette would have you avoid giving the new mom anything that would cause embarrassment. Very personal gifts like stretch mark creams, breast feeding supplies and weight loss tools should be avoided. Be cautious in giving how-to books as well. If you feel really strongly about something of this nature, good gift etiquette would be to give it privately.
When buying for the new mom, it is good baby shower gift etiquette to think ahead. A lot of times moms receive a lot of outfits for a newborn baby. I always appreciated when I received something for later when my baby had outgrown the newborn sizes. It is good to buy clothes for the next season, toys for later developmental phases, or eating utensils. They always come in handy.
Baby Boys
Traditionally the color for boys has been blue blue blue. However, the trend is expanding to reds, browns and yellows too. With a cute little boy on the way, you can find so many fun outfits or blankets in this color palette. If you know the new parents well, good baby gift etiquette will have you find things that are in their style and taste. Boys
love
sports, trucks, cars, trains, teddy bears, bugs and frogs. If you are unsure about size of clothing, because one-size does not fit all, a cute stuffed animal or a fun developmental toy is always a sure bet.
Baby Girls
Pink has traditionally been the best way to go for little girls. Purples, yellows and greens are wonderful colors that are painting their way into the baby girl's palette. It is so much fun to dress up baby girls like princesses. Mom's with a flair for fashion love little accessories for their baby girls. They
love
to put their girls in little tutus, jewelery, hair bows and cute socks.
Boys & Girls
For the most part, functional gifts are very very welcome. If the parents have chosen to wait to find out the sex of their baby, stick to the neutral color palette of greens, yellows, whites and tans. There are so many items that you could purchase that would be
very helpful
for the new mom.
Diapers in both newborn and size 2. Mom's can never have enough diapers
Baby wipes. Again these are always in high demand.
Other diapering essentials: cornstarch, changing pad, diaper disposal bags, diaper rash cream and baby powder
Crib sheets
Baby shampoos and soaps
Baby washcloths and towels
Onesies. It is good baby shower gift etiquette to purchase a couple of sizes so that the mom has some on hand when the baby grows out of one size.
Little socks
Little hats to keep their heads warm
Soft pajamas. There is nothing like cuddling a baby in soft jammies.
Lullaby CD's with a nightlight
Baby care kit with mylicon, tylenol, nail clippers/file, q-tips and other essentials
Gift card to a fun baby store
Fun developmental toys
Photo albums
It is also good baby shower etiquette to buy a little something for the mom. They always appreciate something just for them. A good manicure or pedicure goes a long way to make her feel good. A spa gift certificate will relax her after long nights with a new baby. Anything that will
help her feel important and special
will give her just what she needs.
New moms, make sure you use your thank you note etiquette to express your gratitude to those who brought you so many things to help you get started in your mom career.
Baby showers are a great time to share fun gifts and advice for a new mom. Using good baby shower gift etiquette will allow you to
show your love
for both mom and baby.