Invitation Etiquette
~Set The Tone For Your Event~
Invitation etiquette, will allow you to create the tone for your
upcoming special event
even before it starts. Your invitation should
match the tone
, thus giving the recipient an idea of what kind of party they will be coming to and what kind of clothing and dress they will be needing.
We have all received an
invitation
that did not make it past the mail pile. This could be a result of lackluster presentation, informal addressing or the delivery itself. Recently we were invited to the wedding of our neighbor. She came to the door and handed me the invitation with, "I guess we should invite you because you are good neighbors and all." What followed was an uncomfortable conversation that lasted until, finally, the fiance showed up. It could have been the most beautiful invitation I had ever seen, however the delivery
killed the deal
.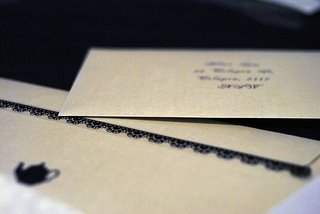 How
your guests receive their invitations will show them how much you would like them to be a part of your event. If you are following
etiquette for invitations
, they will be very happy to make the necessary arrangements to be there. If you are having an event that your guests will be required to travel from out of town, send the invitation at least 6 weeks prior. If you are planning far in advance, a '
save the date
' card is very appropriate. Following good
save the date etiquette
will allow your guests to make all necessary travel arrangements.
A
wedding
definitely requires
wedding invitation etiquette
on so many levels, because there are multiple invitations that will be sent out. First and foremost,
wedding invitation addressing etiquette
should be followed to the letter.
Wedding invitation wording etiquette
will help you design your invitation with class. Manners Using the
bridal shower invitation etiquette
and
wedding
rehearsal dinner invitation etiquette
your guests will be able to share in the festivities.
Guests
should follow the
wedding invitation response etiquette
to show the bride and groom that they are honored that they were invited to share in their special day.
It is a fabulous idea to use
dinner invitation etiquette
when inviting a special someone to spend an evening with you. Setting the tone for a
romantic evening
is possible from the get go.
New moms and mothers to be love to have baby showers thrown for them.
Baby shower invitation etiquette
shows how to have
cute invitations
and also helps the guests to know if it is a boy or a girl or if it will be a surprise.
Let us not forget the
party invitation etiquette
! We all love to share a good party with our family and friends. It is always fun to receive an invitation to something like this when it has been well planned and thought out.
Maybe you are going to have a family reunion and need some help with the invitations. This
sample family reunion invitation
will help you create an amazing event!
Although it isn't technically an "invitation"
birth announcement etiquette
fits this category of invitations and announcements very well. These tips will help you share this special event.
When you are throwing any kind of party or gathering, you need to invite those you want to share your time with. Inviting them with etiquette and style will set the tone and
create a memory
too.