Engagement Etiquette
~Set The Tone From The Beginning~
Engagement etiquette is the best way to set the tone of a fun and successful engagement right from the time he pops the question and she says, "YES!"
This is much simpler than proper wedding etiquette, however it is vital to practice. This is one of the happiest times and one of the most stressful times you will go through. Planning a wedding is complicated and there are so many people to keep happy.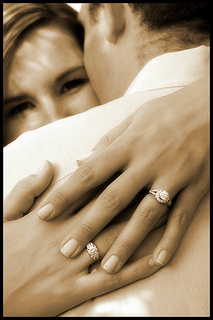 The most important aspect of the engagement is the ring. Following engagement ring finger etiquette will leave no question in anyone's mind that you are happily betrothed to the one you love.
After the two of you share the special moment of proposal, there are so many people to tell. Most of us want to shout it from the rooftops, yet with engagement announcement etiquette, you will be able to share it in the best way.
More than likely, your family and friends will want to celebrate this exciting time with you. Throwing a party with engagement party etiquette will give the celebration the right touch. This is a time when gifts are appropriate too. Engagement party gift etiquette will help you find just the right thing for the happy couple.
Unfortunately there are times when the engagement does not work out. There are a lot of questions that surround this. Broken engagement etiquette will help you handle this time with class and dignity.
The time that you are engaged to your loved one is a time of planning, learning and growing. Make the most of it for yourselves and those that love you.