Bridal Shower Gift Etiquette Tips
Proper bridal shower gift etiquette will ensure that your experience is a positive one. This page will give tips for both the bride to follow and also for the guests to follow in order to have a good time without offending.
Proper Bridal Shower Etiquette for the Bride
A very common feeling for the bride is to feel embarrassed about opening presents in front of the guests. I understand that because I feel the same "present anxiety" during Christmas and birthdays. However, you should open the gifts in front of the guests because they want to see your reaction to what they have purchased for you.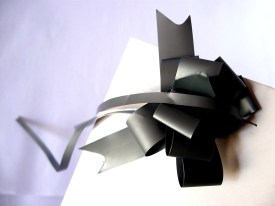 There are ways to minimize the attention to yourself at the party. Your creativity is the only thing that will hold you back. Maybe you want to have a journal passed around at that time for people to sign as a keepsake. Maybe have a small kind of game going at the same time. Of course, if you don't mind the attention, then this is a detail you need not worry about.
When people are being invited to the party, make sure you include the theme of the bridal shower on the invitation. That way, your guests will know what kind of gift to bring that is associated with the theme of the party.
It is not bad bridal shower gift etiquette to include where you are registered on the invitation. A guest would much rather purchase something that you would like and use. It also helps them get an easier idea of what to bring as a gift.
At the party, be sure to speak with each of the guests. They have made a point to come and you want to be sure that they feel welcome and that you are happy that they came. Even though it may be a little uncomfortable, you owe it to your guests to provide them with that kind gesture.
If people give you a personal item (lingerie, adult gifts, etc.), be prepared to deal with the situation. Some people don't mind passing around the negligee or whatever it might be. If that makes you uncomfortable, you will want a tactful way of navigating that situation. Maybe a response like, "I am just going to let your imagine what this gift is."
Be sure to thank each person for the gift. Keep a list (or have your bridesmaid do it) of each of the gifts so that you can send thank you notes after the party is over.
Proper Bridal Shower Gift Etiquette for Guests
If you are a guest attending the bridal shower, then most of your etiquette is centered on your attention to the gift.
Some people wonder if it is necessary to bring a gift to the bridal party. The answer to this question is that you should bring a gift. It would look tacky to come without one.
You do not need to spend a certain amount of money. It is all about keeping it within your budget of what you can afford or what you want to give. Some people like to make gifts which is a nice gesture as it will be something unique. Others like to give something that is a family heirloom or treasure if the bride is a very close friend. This is also a sweet gesture and well within bridal shower gift etiquette guidelines.
The whole point is that some people will say that you have to spend a certain dollar amount and that is not the truth. You can do whatever you feel comfortable with. Just be sure to bring some kind of gift.
There are those people that like to give gifts that would be associated with the honeymoon or the bedroom. In order to keep your bridal shower manners intact, you will want to use prudence here. If the shower is themed around this, then anything is fine. If it is not, then you need to use a rule of thumb.
The rule has to do with the bride's family. Her mother and grandmother will likely be at the shower. How will they respond to the gift? If that is going to be uncomfortable, then it would be best to consider a different kind of gift.
Other than that, just congratulate the bride on this exciting time in her life and enjoy yourself at the party.
I hope these tips on bridal shower gift etiquette help you make the most out of this fun event!