Business Table Manners Can Help You Make An Impression To Create More Opportunities
Business table manners can be the deciding factor between getting that business deal or job promotion. That is why you need to pay special attention to your business table etiquette.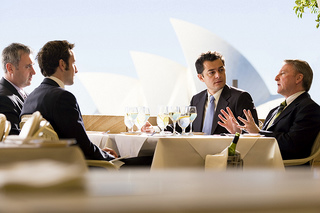 In almost every business meal I have eaten, the purpose was to solicit new business, work on office relationships, or solidify the relationship of an existing client. In that sense, business meals are a great opportunity to impress and win people over with the right manners and etiquette.
You should treat these eating meetings with a great deal of care. You do not want to use the same manners and etiquette that you would use with a usual meal. Most people have poor manners and it would shine through here.
To that end, we are going to provide you with some great tips that will make the next business meal one that open doors of opportunity for you.
Some people think that poor manners are not a reason for someone to decide to not do business with you or your company. I would disagree. Although that may not be the primary reason, it may give them a reason to reconsider their decision. That is why it is important to not overlook this detail. You must use businesse etiquette in every situation you are in...even a meal.
Business Table Manners Tips
Be careful what you order - You do not want to order something that is going to be really messy or difficult to eat. You will stand a greater chance of making a mess or spilling on your clothes. This is very embarrassing and could have a negative effect.
Make the business meal easy on yourself and only order something that you will be able to eat easily.
Turn off your cell phone - Taking a call during a business meal just shows poor business table manners. It makes people feel that the call you are taking is more important than they are.
If you have to keep your phone on, then put it on vibrate or silent mode. You do not want to be interrupted during this important meeting.
Try to avoid alcohol - It is always best to avoid alcohol during business meals. If people insist, then limit it to one drink. There is nothing worse than saying or doing something foolish when you have had too much to drink.
Take smaller bites throughout the meal than normal - Since part of the purpose of the meal is to talk about business, you want to be free to do so. Take smaller bites than you would when you are regularly eating. This will make it easier to finish chewing and participate in the conversation.
By the way, you did finish chewing before you started speaking right? Please tell us that you did...
Use the napkin frequently - This is also part of good business table manners. No one wants to look at the food you have on your face. Most people will be too polite to tell you that you have food on your face. Don't let the food sit there the entire time.
You also do not want to lick your fingers at the table. You have a napkin to do that. Use your napkin!
These tips should help your business table manners shine through. Make sure that you also focus on getting the deal or promotion!