Proper Business Telephone Etiquette Will Have You Talking Your Way To Success
Business telephone etiquette can make you or break you in the business world. The way you sound, the way you act, and the way you treat people are all components of business phone etiquette.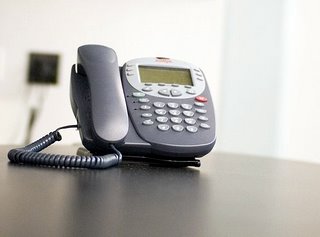 Our site is all about helping you influence others using manners and etiquette. In the business world, there are always phone calls with co-workers, clients, vendors, and prospective clients. Did you know that you can increase your effectiveness by using simple telephone etiquette?
That is the power of what we want to show you. You can actually use these skills to acquire more business and avoid the mistakes that others make that cost them business.
Communication is often not just what you say, but also how you say it. When you use the right tone, place emphasis on the right words, and listen effectively to the other person, you will be using great telephone skills that most people will not use. From that perspective, this is another way to put yourself ahead of the competition!
Let's review the different elements of business telephone etiquette consisting of the way you sound, the way you act, and the way you treat people:
The Way You Sound
Let your voice warm up - Let's face it...we have all talked to that person that sounds like they just woke up. No one likes to talk to someone that sounds exhausted. It makes me exhausted just thinking about that person.
Let your voice warm up in the morning. As silly as it may sound, turn on the radio and do some singing before you get to the office. No one else will be able to hear you and your voice will be ready by the time you get to work.
Avoid having one tone - Most people hate to talk to someone that only has one tone and no energy in their voice. I prefer to do business with people I can stand to talk to. You want to be that person. If you are having problems always sounding monotone, focus on placing emphasis on important points in the conversation.
Focus on what you are saying - In a face-to-face conversation, people can read your body language and get a better understanding of the non-verbal communication you are sending. Experts estimate that 70% of all communication is non-verbal.
With the phone, you only have that 30% of communication to deal with. Good business telephone etiquette would dictate that you pay more attention to what you are saying to compensate for the lack of non-verbal communication.
The Way You Act
Put some energy in your call - This point actually feeds off of some of the previous points. Since you do not have non-verbal communication to rely on and the fact that you do not want to be monotone, you need to put some energy into your voice.
That does not mean to yell on the phone. I usually will stand up and walk around when I am on the phone. It helps me put some energy into my call and the person on the other end of the call can feel that energy. It also helps prevent me from sounding lethargic.
Do one thing at a time - Most people can tell if you are trying to multi-task while on the phone with this. This is horrible business telephone etiquette as the message you are sending is that they are not important enough to devote all your attention.
Multi-tasking is a great ability, but do not do it while on the phone.
The Way You Treat People
Be pleasant - It doesn't matter if you are having a bad day or not. That person on the other end of the phone didn't cause your bad and you have no right to take it out on them. Treating people rudely is not only bad phone manners, but it is just inconsiderate.
Be the kind of person that you would want to talk to on the phone. Even if you are on the phone with a rude customer, kill 'em with kindness!
Follow the golden rule - The golden rule sure applies to this as it does with everything else. Treat people the way you want to be treated and your phone calls will go much better when you show that kind of respect.
I hope these tips will give you great business telephone etiquette. Remember that the next phone call could be the most important call of your life!