Top Christmas Card Etiquette Ideas
Christmas card etiquette can be a difficult thing. Who do you send cards to? How do you address them? With so many other things going on during the holidays, how do you find time to fit this in with everything else?
Christmas Card Etiquette Tips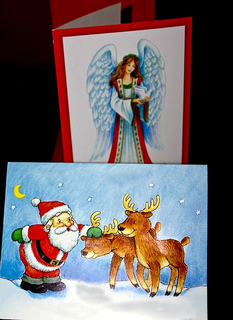 1. Think of your audience when selecting cards. One of the best things you can do is to purchase several types of Christmas cards. As an example, some may say "Merry Christmas" and others may say "Happy Holidays" for those that do not like the religious side of the holiday. If you are getting "Ba Humbug" type cards or humorous cards, you may want to save those for close friends or others that you know would not be offended. Since etiquette is all about thinking of the feelings of others, you might want to avoid sending a card to someone that you know does not celebrate Christmas.
2. Send cards as early as possible. When a Christmas card arrives one or two days before the holiday, you will probably offend people instead of letting them know you were thinking about them. They will not have time to reciprocate and send a card in return. The earlier you can send them, the better it will be since you will already have this task behind you!
3. Handwritten will always be received with more joy. How do you feel when you receive a form letter for a Christmas card and it was addressed with a pre-printed label? It makes me feel like a number. You will get the best results when you handwrite the address, your signature, and any other message in the card.
4. It helps to include a return address on the envelope. This allows people to know your address to send one and shows good envelope etiquette. It is also good Christmas card etiquette so that the post office will be able to send it back to you in the case that someone has moved.
5. Buy your cards AFTER the holiday. When Christmas is over, Christmas cards will be on sale in every store at clearance prices. Since Christmas cards do not go bad, it is a great thing to buy them early and save them for the coming year. It is a way to make your wallet stretch a little further.
6. Seal the flap of the envelope. You would be surprised how many people will spend the time to send out Christmas cards and not seal the flap. This sends the message that you are lazy and not considerate enough to finish the job. The recipient may also wonder if something was in the envelope and it was removed by someone. Proper Christmas card manners requires that you close the flap on the envelope.
7. Double-check before sending them out. Did you forget anyone? Is everything properly addressed and adequate postage on them? If everything checks out, then mail them out. Give yourself a pat on the back for doing Christmas cards the right way!
I hope these ideas on how to send Christmas cards was helpful and that you enjoy the holidays.