Dating Rules For Girls
~Tried & True, Old & New~
The best dating rules for girls have not changed much over the years. There are some that are more modern, however the evolution of the rules has come with changes in society.
Long gone are the days when girls sit by the phone and wait for guys to call them. Back in the day they did that because it was wrong for them to call a guy. The only way they would hear from a guy is if they were home when he called. Today it is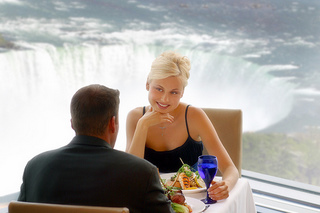 within the dating rules for girls for her to call a guy, however it is not in the rules for her to call him incessantly.
The following is a list of dating rules for girls to follow before, during and after her date. Some may seem outdated, however they have been tested over time and have been proved to work like a charm.

Before the Date
Look your best for the date

. Taking time for proper grooming is always a good idea. It takes time for a lady to get ready, so plan enough time to shower, do your hair, nails and make-up. When my husband and I go out on a date I always make sure I do a little extra to show him that I am excited to be spending the evening with him.

Wear an appropriate outfit on the date.

If you can, find out what you will be doing, so that you can pick clothes to match the activity. It is never fun to show up for a bowling date wearing a skirt and heels. If he wants to keep the activity a surprise, it is appropriate to ask what type of clothes to wear. Make sure your clothing and dress are modest, clean and match.

Be on time.

It is just good old fashioned dating etiquette to be on time. This shows that you respect him and the time that he has for you. It has been said on many occasion that a woman should keep a man waiting, I don't think they asked the man who is waiting and waiting what he thinks of that.
During the Date
Allow him to be a gentleman.

Chivalry is not dead. The right kind of man loves to show his respect for you by opening car doors, holding open doors, ...etc. It is a way that they can take care of you. If you are unsure he is this type of man, lag behind a little bit to see if he will open the door for you. You will know soon enough and will be able to adjust accordingly.

Be a lady.

I grew up surrounded by boys, and in so doing adopted a lot of boy attributes. When it was time for me to date, I had to learn with dating rules for girls (the hard way) that men do not like a girl who is good at belching, farting, swearing and so forth. Use your good manners with them and they will appreciate it.

Be confident.

This all starts when you are getting ready for the date. If you look good, then it is easier to feel good about yourself. Men love women who exude confidence (not arrogance). Avoid fidgeting, biting your nails, filing your nails.

Keep the conversation balanced.

By this I mean do not control the conversation with things about you. Asking a man questions about his life, job, family, hobbys will show him that you are genuinely interested in him. Look him in the eyes when you are talking. When he asks you questions answer them honestly. Keep the conversation informative, but not skeleton in the closet informative.

Avoid the past.

One of the worst first date conversations you could have is who you have dated, how/why you broke up and the scars you carry. If he asks, you can politely decline answering. Your baggage should stay at home where it belongs, with the skeletons.

Offer to help pay for the date.

Politely offer to help pay for dinner, however don't make a big deal out of it if he says no. Guys should never expect the girl to pay. Also, they know when you are trying to get out of it by conveniently 'going to the bathroom' when the check comes.

Respect yourself.

Not every date is the best date ever. There are times when the guy is not who you thought he was and starts acting inappropriately. Respect yourself enough to say no and end the date. Do not worry about hurting his feelings, worry about keeping yourself safe and happy.

Enjoy the moment.

Smile a lot. Life is too short, so laugh and have fun. Even if you know the relationship with this will go no further than this evening, have a good time. Dating is all about experimenting, so live it up.
After the Date
Show your manners.

Thank him for a great time. Again, smile and look him in the eyes so that he knows you are sincere. Let him know if you are interested in seeing him again.

Give him some time to call you.

Don't expect a call the next day. If it happens that is great, however if it doesn't give him a few days. Calling him a few days later to thank you him again for a wonderful time is appropriate.

Know when to give up.

If he hasn't called you after a few days, let it go. It is time to move on. It is

not

in dating rules for girls to sit around waiting for a phone call that will not come. This only puts you in a bad mood and nobody likes that.
Let's face it ladies,
we love the amazing men out there
. We love it when they are interested in us. We love it when they treat us with respect and make us feel like the lady we truly are. They are incredible balances in our lives.
Dating rules for girls is the best way to be confident, have fun and give them the respect that they deserve all at the same time.