Dinner Etiquette - How to Throw a Successful Dinner Party
Proper dinner etiquette rules will help you host a successful dinner party. Ever been to a party that you wish you hadn't attended? Us too! That is exactly what we are going to help you avoid.
When you are planning a dinner party, everything begins with the planning. When you are planning the dinner party, you need to start by answering the following questions:
Who are you going to invite?
How many people will attend?
Will the event be formal or informal?
Where are you going to hold the event?
What type of food will be offered?
Is there a theme or celebration in association with the dinner party?
Once you have the answers to those questions, you can begin to use these rules for formal dinner parties.
I am going to go through this as if you were going to host a formal dinner party. So, the dinner etiquette will focus on a more formal type of event.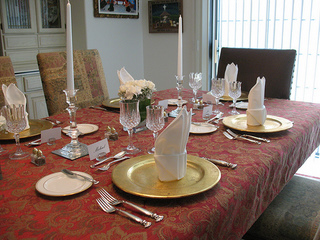 Attendees - One piece of formal dinner party etiquette to be aware of is to ensure that you are not inviting people where there is a known problem. If you know two people do not like each other, do not invite them. You are asking for an awkward event if you do. Nothing can kill an event like inviting the wrong people. You want people that are lively and have some humor.
Invitations - After you have decided on the people that you are going to invite, you must prepare the invitations. We recommend sending the invitations at least four to six weeks prior to the event. This will allow the attendees to save the date on their calendar, reschedule anything else that day, or find babysitters if needed.
You must also make sure that your invitations specify the dress code for the event. Otherwise, you will not have people showing up in their formal attire or some other inappropriate clothing and dress.
Your event will be poorly attended if you do not send out the invitations early enough for people to plan on attending. Ask them to RSVP so that you can have the proper number of place settings and food prepared.
Seating - Be thoughtful when you are deciding on a seating chart. If you put two people with similar interests at the same table, you could run into a problem. They could end up talking all night about that interest and those that do not have that interest at that table will feel alienated.
Start On Time - It is bad etiquette to show up or start a dinner party late. Be punctual. If you have to arrive late, make sure that you notify the host in advance.
Menu Selection - When choosing the food, try to think about your guests. Do you know if any of them have food allergies? Is there a type of food that they do not like? My wife and I do not like seafood and we would be miserable at a seafood dinner party. In fact, she has a shellfish allergy that would prevent her from eating. So, in order to avoid a bad experience from one of your attendees, do your best to plan the menu with them in mind.
If you follow these rules and ideas, you should be able to plan a very successful dinner party. That is the whole point of dinner etiquette.