Impressing With Dinner Party Etiquette
Do you have a dinner party coming up and want to make the right impression with your dinner party etiquette? Is it even possible to impress people with proper etiquette? Absolutely!
Make A WOW Impression
Think that is impossible to do when being "proper" with dinner party etiquette? Think again! In today's society, so few people know how to be civilized and make a positive impression that it is easy to stand out (in a positive way) from the rest of the crowd.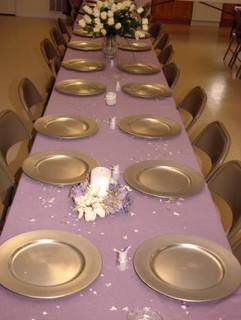 We could provide you with a bunch of generic manners rules like: chew with your mouth closed, or keep your elbows off of the table. However, in the scheme of things, these are not necessarily the proper dinner party manners that are going to get you noticed.
When I attend a dinner party, either formal or informal, it is all about connecting with people and making a positive impression. You never know when you are going to meet someone that will have a dramatic impact on your life. It is always best to do things right the first time and never have to worry about a second impression!
If you find it difficult to socialize with others, you need to avoid the two extremes. The first extreme would be topics that are taboo (politics, religion, etc.). These are topics that can get very heated and you may turn many people off by your opinion. That is not the impression you want to make. The second extreme is topics that are boring and inconsequential (i.e. small-talk). No one really wants to discuss the weather, or anything else that is meaningless. You will not make an impression or connect with anyone like that.
To make socializing easy, think about the one thing that EVERYONE loves to talk about...themselves! If you are shy, one of the easiest ways to facilitate a conversation is to get them to talk about themselves. What do they do for work? What interests them when they have time to themselves? What about their family? Those questions can help you find common ground and make a lasting impression on people. That makes dinner party etiquette really easy!
Tips To Get Noticed
There are small rules in our society that have been forgotten. In other words, the art of being a true gentleman has largely been lost. If you really want to be polite and make an impression at the same time, be sure to stand up anytime a lady walks in or out of the room. This is a simple gesture that is well respected and will get you noticed. Don't be surprised if other people start doing this at the table just to match your level of thoughtfulness.
Bring a small gift for the host. This can be another way to make an impression and stand out amongst everyone else.
Dress appropriately. Usually, the host will specify what the dress code is going to be. The more you can follow the protocol, the better impression you will make. This may seem like a small item, but people do not like it when you don't follow their rules.
Be grateful. Thank you is an expression that has largely been forgotten by the upcoming generations. This is such a small thing, but it goes a long way.
If you need tips on table setting etiquette and knowing when to use the various plates and silverware, we have that information for you as well.
We hope this information on dinner party etiquette helps you feel more at ease at the next party and allows you to socialize in style.