Dinner Party Gift Etiquette
Dinner party gift etiquette is just a few simple tips on what to bring the host of the dinner party you are attending. It is always fun to show your gratitude for the evening with a little something.
When you are invited to a dinner party, be sure to know how formal the event is. This will help you in your gift selection. Appropriate dinner party gift etiquette will have you keep the gift in line with the event. The more formal the event, the classier the gift (this does not mean more expensive).
Another thing to keep in mind is the trend or culture of your area. There are many areas where bringing a gift is quite unusual. However, there are gift etiquette fanatics who would not hear of attending and evening without a gift. Be sure to know which way to go.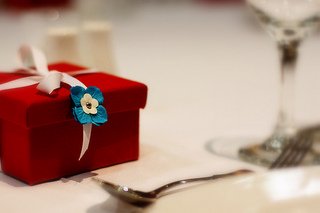 What if you are unsure about brining a dinner party gift? Your best bet is to leave it in the car and watch the other guests. It is a good idea to have a code system down with your date to retrieve the gift if needed.
Make sure to use gift etiquette and give them their gift away from everyone else, if possible. You do not want to make a big deal that you brought a gift. Keep the manner you give it in simple.
When you do present the host with a gift, good dinner party etiquette is shown when it does not require immediate attention. They have their hands quite full with the dinner, receiving the guests and mingling. So keep your gift low-key.
Flowers... They are a fantastic gift, however keep it simple for the host. Make sure your gift of flowers is already arranged and in a vase. This way they do not feel like they need to leave their party to arrange the flowers. Sometimes the flowers are a wonderful way to say thank you when they are sent the next day.
One more thing to remember with dinner party gift etiquette...
don't expect your host to use the gift you have brought that evening
. They have every detail attended to, so your gift will be something that they can use at a later date to remember the wonderful evening you all shared.
Ideas For Gifts
The gifts do not need to cost a lot of money. They do need to show that you are so grateful and happy to be sharing the evening with your hosts. Be creative and simple all at the same time.
A basket with muffin mix, liners and juice for breakfast the next day
Scented candles
Hand soap with a hand towel
A small plant
A box of yummy chocolates
Coasters to either match the theme of the evening or their decor
A box of stationary or cards
Scented lotions
A basket with various cheeses and crackers
A small fruit basket
A bottle of gourmet oils and balsamic vinegar
This is just a small list of ideas that you could use. It is really up to you and how well you know your hosts.
Dinner party gift etiquette is a small, but simple way to say thank you to your hosts. Enjoy your evening and make some wonderful memories!