Engagement Gift Etiquette
~Pass Down Family Heirlooms~
Traditionally engagement gift etiquette is meant for the bride and groom to present each other with thoughtful gifts. However, it is also a time that family heirlooms can be passed down.
The bride and groom should not expect an engagement gift from friends and family. An engagement party is a time for family and close friends to celebrate this great event together before the wedding madness begins.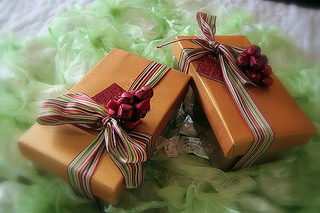 As family and close friends, if you are invited to the engagement party, an engagement gift is appropriate, but it is not required. Showering the bride and groom with love and support is a gift that they will appreciate long after the wedding is over.
As parents and grandparents, the engagement party is a wonderful time to pass on a beautiful family heirloom that the couple can carry with them. When I was married, I was given my grandmother's pearl necklace. It is a treasure of her love and memory.
Another appropriate heirloom gift that could be given is a ring from the groom's side. This is appropriate engagement ring etiquette. A close friend of mine was given his mother's original wedding ring as her engagement and wedding band. It is a treasure that has bonded them together.
The bride and groom will demonstrate good engagement etiquette by opening their gifts away from the party, unless it is requested by the giver to open the gift with everyone present. They will also show good thank you note etiquette by sending them out quickly. Remember good wedding etiquette starts with the engagement.
Celebrating the engagement of a couple is wonderful. Presenting them with meaningful gifts will show them how much you care.