Formal Wedding Etiquette
Formal Wedding Etiquette is necessary for all who are involved and attending a wedding of this nature. It is a very classy and formal event that one would want to act the part.
As a formal wedding is a special event, wedding etiquette states that they should never be held in an outdoor setting. They are normally held in a church with a clergy member or minister presiding over it.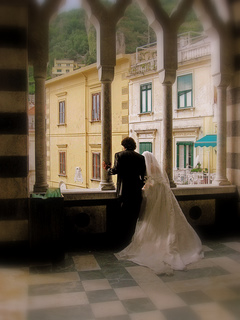 The formal wedding etiquette shows that these weddings have religious undertones. The minister or member of the clergy will have a prayer, a special message for the bride and groom and a benediction on the couple's union. It is a reverent ceremony.
Due to the nature of the ceremony, your clothing and dress for the ceremony should show your respect. If it is stated that this is a black-tie affair, men should wear tuxedos, with the women wearing floor length formal gowns. If black-tie is not stated, men can go with the tuxedo or a dark suit and women do not need to wear a floor length formal, rather something dressy.
In this type of wedding the bride wears a long white gown, with a chapel train, gloves and a veil that is at least finger tip length. She can have between 4-10 bridesmaids with a flower girl. Their attire should be in accordance to a formal wedding, modest and classy.
For the groom, he is to wear a tuxedo. Along with his best man, he can have 4-10 groomsmen or ushers and a ring bearer It is good for the number to match that of the bridesmaids. These gentlemen will also wear tuxedos.
If you have been invited to a formal wedding, use good wedding rsvp etiquette and respond quickly. They will need to know who is attending to plan the seating and food accordingly.
Reminder
Good wedding manners are shown when the guests turn off their cell phones during the formal ceremony.
Formal weddings are a beautiful, solemn ceremony that will celebrate the union of two wonderful people. As you take part in a wedding of this nature enjoy the time you have to be with those you love.