Hotel Etiquette
~Showing Consideration For Others~
Traveling? Hotel etiquette is just what you need to make your stay more pleasant. Whether it is for vacation or business, good travel etiquette is showing consideration for others when you are staying in a hotel is important.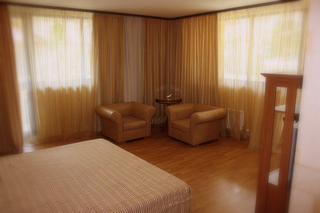 We have all experienced the bad hotel etiquette. People running up and down the halls all through the night, the television next door with the volume up as loud as it can be, slamming doors... the list could go on and on. It is important that we do not treat the other guests like this.
The golden rule is essential in hotel etiquette. Treat everyone else how you want to be treated. It doesn't matter how luxurious the hotel is or isn't. Following a few simple guidelines will help you feel better about your stay.
The To Do's
When checking in,

be patient with the hotel staff

. They are doing their best to help you. No matter how late your arrival time, be pleasant and it can bring great returns if you need anything during your stay.

Tip your doorman and bell staff

. Good tip etiquette states that you should tip them $1-$2 per bag. Be polite and use your Thank You's.
If there is something wrong with your room,

inform the front desk immediately

. Be polite about it, they had no idea what was waiting for your there.

Keep the noise in the halls to a minimum

. When you are going to and from your room, remember that there are other people staying in the hotel. During the day it is okay to laugh and have a good time. At night, keep your voice down and your feet quiet.

Try to open and close your door quietly

. Hotel doors are famous for their loud slams. Everyone can hear when you come and go. Take a few extra seconds to close it softly.
Keep the volume in your room down too. Your television, conversation and play time in your room should be a normal level.

Your hotel neighbors do not want to hear what you are watching, talking about or doing.

Use your

'do not disturb'

card when you do not want to be disturbed. Housekeeping and other guests will respect this and leave you alone (normally).

Keep your room clean

. Good hotel etiquette is shown when you throw away your trash, pick up your clothes, and take care of the bathroom. Show your respect for the room and the housekeeping services by taking care of things as if they were your own.
It is

okay

to reuse your towels and sleep in the same sheets for a few nights. It is quite easy to hang up your towel after you have finished with it. It is just as easy to put the do not change the sheets card on the bed.
If there is a pool at the hotel,

use the towels that are designated for the pool

. Be mindful of other people using the pool as well.
If you order room service, be sure to tip them as well.

The gratuity for room service is 12-15%

. Take care of the dishes as well.

It is okay to inform the front desk if there are guests that are acting inappropriately.

Again, be polite about it. Using politeness will get the situation taken care of quicker and more effectively than yelling.
The Do Not's
Do not be rude to the hotel staff

. Good hotel etiquette shows that you recognize that they are there to provide you with a service.
You should not help yourself to the towels, robes, pillows as souvenirs.

They are not there for you to take home.

Please don't fill up your ice bucket late at night.

There is nothing worse than waking up to the ice bucket being filled.
Calling for every little thing that is wrong with the room is not good hotel etiquette.

If there are things that can be dealt with, do that.

If they have taken care of issues then work with what they have done.

Don't allow your children to run crazy through the hotel.

They should be supervised at all times by their parents.

Do not use the pool after hours.

There is a good reason (people sleeping) that there are designated pool hours.
Hotels can be a fun and magical place for those who are traveling. They can also be a great place to conduct business. Hotel etiquette is a wonderful way to enhance your stay in any hotel. Happy Travels!!!!