Party Invitation Etiquette
~Let's Get It Started~
Party invitation etiquette is the best way to get it all started. When you have a special occasion on the horizon, the invitations will help you get the word out.
After you have decided the type of party you are having, picking the invitation is the next step. The invitation will show your guests the occasion, the formality of the party and all of the information necessary.
Be creative with your invitations. They can be store bought, hand made or a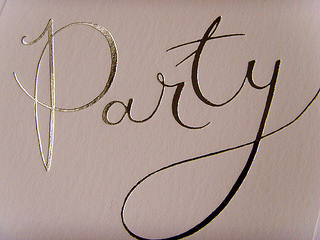 combination. If the occasion allows, evites have become increasingly popular. As long as the invitation reflects the celebration.
Whether it be a birthday party or a dinner party, the most important part of etiquette for invitations is getting them to the guests. The difference comes with the timing. A birthday party required 1 to 2 weeks notice, while a formal dinner party needs 3 to 4 weeks. Your guests will appreciate this.
Party Invitation Etiquette Information
Name of the host or hostess
Guest of honor
Date of the party
Time of the party
Purpose of the party-birthday, dinner party, summer backyard party, retirement party, or whatever the reason you have found to celebrate
Location-if you are holding the party at someone's home list their name; if it is at a restaurant or park be sure to include the name.
Address
Dress-if a particular type of dress is required (formal, costume...) list this at the bottom of the invitation.
RSVP information
As a guest receiving an invitation, response etiquette states that you should
respond as soon as possible
, even if you will be unable to attend. For casual parties, email etiquette states it is appropriate to respond in this fashion. With formal events, respond with the response card (if included), dash off a note on stationary, or call the hostess.
When you receive an invitation,
take note of whom it is addressed to
. This will tell you who is invited. If your invitation includes a guest, then it is appropriate to bring one. If one is not listed, do not assume that you can bring a date. Also, look to see if children are invited before bringing them along. This is party invitation etiquette on the side of the guest.
A party is a time to celebrate. Whatever the occasion may be, the invitation will set the tone. It is your guests' first indication of the type of party you are having. The last thing to do is to
enjoy the party you are throwing!