Phone Interview Etiquette - Your First Step In Getting Your New Job
Showing phone interview etiquette is more important than ever. As times have changed, the popularity of the phone interview has increased.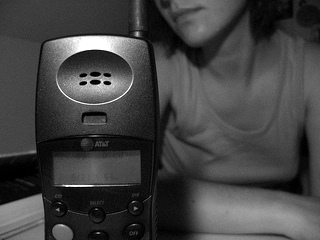 Employers are trying to do more with less money than ever before. Human resources is one of the departments that has suffered force and budget reductions in our economic climate. Therefore, human resource directors have been charged with finding new ways to hire talented people.
As companies have downsized, the job market has become more competitive. This means that you are competing against more people than usual for every job you apply for. Employers are using the phone interview to weed out the potential candidates before having people come in for an interview.
This means that your phone interview etiquette must be impeccable so that you will be part of the few people that are asked to come in for a face-to-face interview.
Phone Interview Etiquette
1. Consider this the same as a face-to-face interview - Many people can be too casual on the phone as if they were chatting with their best friend. This phone call is far from friendly and it should be approached as serious business...because it is.
Imagine that you are in front of the interviewer(s) and answering their questions. It will help you stay focused on what they are asking and you will be able to better answer the question.
2. Slow down - People have a tendency to speak quickly when they are nervous. This can be a sure disaster during a phone interview.
Be sure to think about what you are saying, and speak slowly and naturally. When interviewers hear people speaking so quickly, that is one potential reason that they might go another direction in hiring someone.
3. Schedule the call when you can be alone - You do not want to conduct a phone interview when you are at the store, restaurant, or any other kind of distraction. It is too easy to be distracted if you are in a busy environment. You cannot afford to be distracted on the interview. You show good phone manners when there is no background noise and you are focused on the intervies.
4. Ask about the next step - At the end of the interview, make sure that you are clear about what the next step is going to be. Ask when they will be making a decision or when they will be conducting face-to-face interviews. You should not end the call until you are aware of what the next step is going to be. This will show them you have good business etiquette.
Reminder
Your phone is charged for the interview, right?
5. Get their email address - This email address will allow you to follow-up with them after the phone interview. It will also allow you to send them a "Thank You" email thanking them for the phone interview opportunity. You need to do something to stand out from the other interviewees and this thank you note will do wonders.
These tips should put you in the best possible place to demonstrate proper phone interview etiquette. Good luck on the interview!