Shoe Etiquette - What To Do?
This page on shoe etiquette deals with the issue of what to do when you go to someone's home and they ask you to remove your shoes. How do you tactfully deal with the issue? These ideas will help you handle the situation with style.
Just to give you a little bit of background about my thoughts on this issue, you have to understand where I am coming from.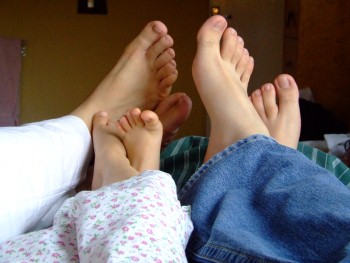 Personally, I think feet are gross and disgusting. I know there are people that think feet are really sexy and attractive...I am not one of those people.
Our whole family is involved in Karate. As we are at class, we are barefoot on the mats and our feet quickly become black and disgusting from the dirt on the mats. Feet just get dirty regardless of the environment they are in. So, how do you handle this with proper shoe etiquette if asked to remove your shoes? Let's break this down into two groups of people: those that are asking people to remove their shoes and those that have been asked to remove their shoes.
First, for those that ask people to remove their shoes:
If you are the one removing your shoes, here are some ideas for you as well
:
Make sure your outfit does not rely on your shoes

. This is mostly for the women out there, but I have heard of stories where a lady was asked to remove her shoes and the outfit looked terrible without them. It may be hard to plan ahead on this one, but do your best.

Remove all those old socks from your dresser

. If you do not have disgusting socks, there is not as much to worry about. Consider this a good reason/excuse to update your sock wardrobe.

Keep your feet well-groomed and stink free

. I know, I shouldn't have to say that, but you would be surprised. Some people just do not place a lot of importance on personal hygiene. This is a plea from the rest of us to do it.
I know that there are some cultures that require shoe removal, but that is not usually the norm here in the US. If this is part of your culture, it is much easier to be prepared as it is your way of life.
I hope these ideas on shoe etiquette, or shoe removal etiquette, will prepare your feet to have a pleasant time without offending others.