Sympathy Gift Etiquette
~Express Your Condolences~
Sympathy gift etiquette is a way to help you express your heartfelt condolences to those that are grieving. Sometimes it is difficult to know what to do for a person you care about. This will help you find just the right way to express your feelings.
When you are selecting something to express your sympathy, the most important thing to think about is showing this person that you are thinking of them and that you are concerned. Sympathy etiquette is quite simple and it will bring the person grieving a sense of caring and love.
When my husband's father passed away unexpectedly, it was so beautiful to see how many people reached out to him and his family. The cards, flowers, plants and gifts that were offered were a ray of light in an otherwise dark time in their lives. Some years have passed and those things have become a part of our lives.
There are different ways that you can express your sympathy for someone. It can be done through cards, flowers, plants, charitable donations, simple gifts, and offers of assistance. Good sympathy gift etiquette allows for any of these methods as long as you give them with love.
Sometimes it is not easy to come up with the right words to say to those grieving. A sympathy card can express how you feel in a simple, beautifully written verse. One way to show sympathy card etiquette is to include a short note from you as you sign the card. It is appropriate to take the card to the services. There are also times after the services are done and life has gone on that a sympathy card delivered will do more for those who are left.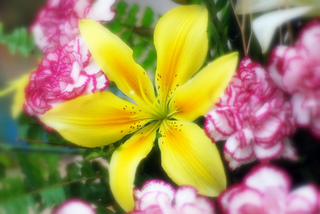 People love to send flowers, because of the color and beauty that they bring. If you choose to send flowers, use good funeral flower etiquette and do so in an arrangement. Following up with a sympathy card sent to their home shows good sympathy etiquette. If the family has asked that no flowers be sent, please respect their wishes.
A good alternative to sending flowers is to give a plant. Plants are beautiful and will continue to live on. They come in so many varieties that it would be very easy to find something that shows your feelings. The plant can be one that you keep inside or one that is to be replanted in an outdoor setting. We have kept some of the plants that were given to my husband's family. They are a beautiful reminder in our home of his father.
Many families have requested that in lieu of flowers a charitable donation be made to either a charity that they have chosen or one of your choice. Making the donation in the deceased person's name is a wonderful way to keep their memory alive. It is good sympathy gift etiquette to share with the family that you did make a contribution. This can be done in a card, a call or a food basket delivered to them.
A sympathy gift can be one of many things. Choosing something that will preserve the good, beautiful memories of their loved ones is good sympathy gift etiquette. A memory box is a very appropriate gift for the family. It will give them a place to put photos, cards and other small items that remind them of their loved one. A picture frame can be a good gift as well. Using the relationship you have with the person or family as a guide will enable you to give a wonderful gift.
The best sympathy gift that can be given is one of time. Sometimes all the family
needs is a listening ear, shoulder to cry on, or someone to sit with them. One of the traditions that we have is to take a meal to the family during the time of preparations. It is a time when people are gathering, so to have something there for them to eat alleviates pressure on the family. Thus showing good sympathy gift etiquette with a meal is very helpful.
According to sympathy gift etiquette, the gift or card should be sent to the closest living relative. If they are not familiar with your relationship with the deceased, it is appropriate that you include how you were connected.
Timing of the a sympathy gift is not as important as the love it is sent with. My husband's mother continued to receive sympathy gifts throughout the first year. It was very helpful to her during those quiet and lonely times. Just knowing that someone still cared was enough light to help her get through.
Taking time to acknowledge the loss of another is definitely a gift of love. It is one that is not soon forgotten.