Thank You Note Etiquette
~Expressing Your Gratitude With Class~
Thank you note etiquette is a classy way to show your gratitude when someone has given you a gift, offered you a meal or helped you in a time of need. It is an art that unfortunately is becoming lost in the shuffle of life.
The words 'Thank You' have a powerful effect on everyone. These two simple words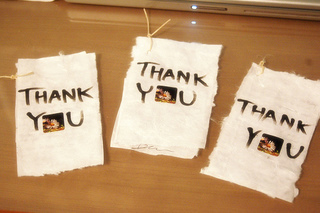 show that what you have received, whether it is a service, a smile, a gift or even advice, is something that you appreciate. They have the power to change a person's day, life or moment.
Thank you note etiquette is simple. Many times people do not send them because they feel like they don't have the 'perfect words' to express their gratitude. The greatest thing about thank you notes is that there are no 'perfect words' other than 'Thank You!' that you need to use.
With every thank you note, there are a few things that you will need to do. The list is not that long, nor is it too complicated.
Always Send A Thank You Note When...
There are situations when you should always, always, always send a thank you note.
Wedding Presents.

When your guests have shown wonderful wedding present etiquette it is

vital

that you express your gratitude for this. If you receive wedding presents prior to your wedding day, send the thank you note as quickly as possible. For the gifts you receive at the wedding and after, you have up to six weeks to get them sent out.

Expressions and Gifts of Sympathy.

This is a wonderful time to reflect on the people who were there for you during a time of loss. Taking the time to write out a sentiment of gratitude will help your heart start to heal.

Bridal Shower Gifts.

Even though you say thank you when you open the gift, it is good thank you note etiquette to send a note too. It is a simple way of sharing your joy.

Baby Shower Gifts.

As any mother knows, those who help her get started with her baby needs are so very wonderful. It is acceptable to write these notes, hold on to them until after the baby is born and then slip a picture of the cutie in with the note. It is a fun way to share the news and say thank you all at the same time.

The Hostess of a Party That Was Thrown in Your Honor.

When someone thinks enough of you to throw you a party for any reason, be sure to express your gratitude here.

Hospital Stays.

Saying thank you for time shared and gifts given when you are in the hospital for whatever reason is always good. It is definitely acceptable to wait until you are home and recovered before you send these notes out.

Congratulations.

When you have reached a wonderful milestone in your life or accomplished something great, send a note to those who shared this time with you.

Formal Dinners.

When you have been invited to a formal dinner, a quick note of gratitude is always in good taste. There are times when these dinners are hosted by your employer. A thank you note is good business etiquette.

Special Favors and Acts of Kindness.

One day I took dinner for the family of a friend who had become ill. I did it because I didn't want her to worry about what they were going to eat and also to give her husband the time he needed to take care of her and the family. She sent me the sweetest thank you note a few days later. It meant a lot to me that she would do that. It is a small gesture that will bring your friends closer to you.

Job Interview.

These are not required, however they do show good business etiquette. It will keep you on their minds and show that you pay attention to detail.
Generally thank you notes are written on a 'Thank You' card, however it is acceptable thank you note etiquette to write them out on a piece of stationary. Whatever you decide to use, just make sure you do it.
A simple act of gratitude goes a long way
.