Wedding Gifts Etiquette
~Send Them Your Love~
Wedding Gifts Etiquette is a great way to help you share some of your best wishes with the happy couple as they start their new life together. There are many questions as to how much, what and when for the wedding gifts. Here you will find some answers to these questions.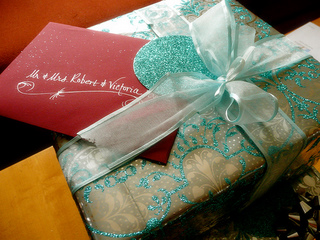 So how much do you spend on a wedding gift?
There is really no cut and dry answer for this question. Some wedding gifts etiquette experts will tell you that you need to spend at least $75 on a gift. Our advice... spend what fits your budget. There are so many options available now to smart shoppers. It is very possible to find a gift that is perfect for the couple that is just what they need.
What do you get the happy couple?
This is where the fun begins for you. Wedding gifts can be anything from fine china to dish towels to gift certificates. Good wedding guest etiquette allows you to use the knowledge you have of the couple and select something that they want or need. If your friends are the outdoors type, camping equipment is a great gift for them. If they are into entertaining friends and family a fun set of dishes is a great way to go. Have fun with it and be creative.
What if you have no idea what to give them?
Fortunately for you, most couples register at 1 or 2 stores before their wedding. The registry information can be included on a website or in their invitation. If you still do not know, it is okay to call the bride, groom or parents to get this information. The wedding registry can be a great way to go. We were recently invited to attend a wedding that was out of state. Rather than purchase a gift and carry it with us, we were able to use an online registry to purchase and ship a gift to the couple. It worked out very nice in that situation.
Is there wedding etiquette for monetary gifts?
Yes and no. I have not met a bride and groom that is offended when they are given money as a gift. The best way to present it to them is in a card that is small enough for the groom or one of the parents to keep in their jacket. It is not good wedding etiquette for the bride and groom to ask for money. That is simply rude. You don't want your guests to feel like they have to pay a cover charge to attend the wedding.
When is the appropriate time to give them their gift?
As I attended weddings growing up, I was always enamoured by the huge table that held all of the wedding gifts. Now that I am a little wiser to the ways in the world, I have learned that proper wedding gifts etiquette is to send or deliver your gift to the home of the bride, groom or parents prior to the wedding. It should be sent to the return addresss on the invitation. When we got married we had the table of gifts.... It was not fun for our family to move them after the reception.
What if I am not going to be able to attend the wedding?
It is good wedding gift etiquette to send something that shows the couple that you care about them and do regret that you will not be able to attend. There are those that say if you are not going you are not responsible for sending a gift. Truly the knowledge that you cared enough to send a little something will tell the couple volumes about how much you care for them.
As with any gift, it is the thought that counts. Using wedding gifts etiquette will show them that you put a lot of thought into their gift and that you are excited to help them start their new life together.