Wedding Invitation Addressing Etiquette
~Sending Them The Right Way~
Wedding invitation addressing etiquette is a guide for you when you are getting ready to send out your invitations. Depending on the size of your guest list, you will want to give yourself a good head start addressing them.
Good wedding etiquette has you sending out your invitations
8 weeks prior to the wedding
. If this is the case, it is a good idea to have your invitations printed and ready to address at least three months before the big day.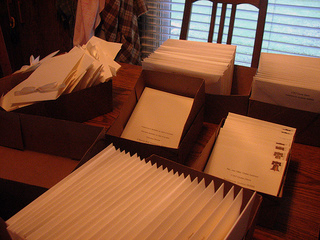 Wedding invitation etiquette states that each envelope is
addressed by hand
. Although printed labels would be much easier, you will show good envelope etiquette by taking the opportunity to wear your hand out. A fabulous idea in this arena is to have an invitation addressing and assembling party with your bridesmaids and groomsmen. This is a great way to put them to work.
Wedding invitations are usually sent in two envelopes. The outer envelope is addressed formally to the guests, while the inner envelope will include other guests from the same address. Good wedding invitation addressing etiquette is shown when you
use formal titles on your outer envelope
.
Gone are the days of Mr. & Mrs. Johnson addressing. It is so important for you to
recognize each person with their proper titles
. The following is a list of examples of how to address the outer envelope and what to include on the inner envelope.
Outer Envelope Inner Envelope
Couples
Married Couple*
Mr. and Mrs. Kaleb Martin Mr. & Mrs. Kaleb Martin
Married Couple
(wife kept
her maiden name) Mrs. Stacie Adams Mrs. Adams
Mr. Ryan Blackhurst Mr. Blackhusrt
Unmarried Couple
(send
it to your closest friend) Mr. Spencer Stevens Mr. Spencer Stevens and
Ms. Jennifer Lewis
*Children
Children under 18 are not List the children by age-
listed on the outer envelope oldest to youngest
Single Guests
Unmarried Woman
Miss (Ms.) Amy White Miss (Ms.) Amy White and Guest
Divorced Woman
(who
uses her married name) Mrs. Sylvia Peters Mrs. Sylvia Peters and Guest
Unmarried or Divorced
Man
Mr. Robert Holmes Mr. Robert Holmes and Guest
Special Titles
Judge
(single) The Honorable Fred Keller Judge Fred Keller
(married)The Honorable and Mrs. Judge and Mrs. Keller
Fred Keller
Medical Doctor
(single) Doctor Brad Randall Doctor Brad Randall and Guest
(married) Doctor and Mrs. Brad Randall Doctor and Mrs. Brad Randall


Married Woman
Doctor Alyssa Larsen Doctor and Mr. Larsen

Doctor
Mr. Brian Larsen


Married Doctors (both)
Doctors Ian and Sophia The Doctors Metcalf
Metcalf
Doctor (Ph.D.)
(single)
Dr. Gerald Basford Dr. Gerald Basford and Guest
(married)
Dr. and Mrs. Gerald Basford Dr. and Mrs. Basford


Clergy
The Reverend Paul Stone The Reverend Stone
Male Officer
General and Mrs. Oliver Pays General and Mrs. Pays
Female Officer
Captain Sheila Forte Captain and Mr. Forte
Mr. James Forte
Taking the time to address your invitations will give you the opportunity to think about whom you are inviting and why they are so special to you.
They will be honored that you included them in your special day (and hopefully they will use their good wedding rsvp etiquette).
Good wedding invitation addressing etiquette will take some time and effort, but it will be well worth it to you and your guests.