Wedding Present Etiquette
Wedding present etiquette is a wonderful way to present a bride and groom with a thoughtful gift to help them start their life together.
Being invited to a wedding is a special honor. The invitation tells you that the bride, groom and their families want you to share in a very special occasion. Presenting the couple with a wedding gift is a way for you to honor them.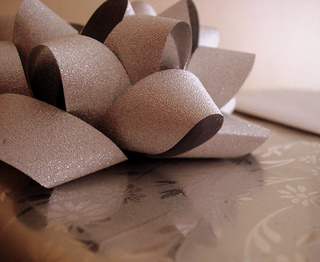 There have been many wedding etiquette experts say that you should give the couple a gift that costs at least $100 to $150. Wedding present etiquette is shown when you give what you can afford. Look at your budget and purchase a gift accordingly. It is the thought that counts and there are many presents that can be selected in any price range.
If you are short on ideas,
look to the wedding registry
. The couple has selected items that they need and would like to have as they begin their journey together. If you do not know where the couple is registered, ask.
Some couples choose not to register.
This is a great time to become creative
. Use what you know of the bride or groom and find them something that is unique to this knowledge. Make sure it is some thing that they will love and is useful all at the same time.
Wedding gift giving etiquette for money is done when you make out the check properly. If you are giving the gift prior to the wedding, make the check out to either the bride of the groom. However if you wait until the wedding day or after, make the check out to the couple.
Now the manner a wedding gift is given can
depend upon where the wedding is located
. In some areas it is acceptable wedding present etiquette to bring the gift to the reception, as they will have a gift table. In other areas it is unheard of to bring the wedding present to any of the celebration. If you are unsure check with the bride, groom or their parents.
Another thing to be aware of are
cultural differences
. For example in the Japanese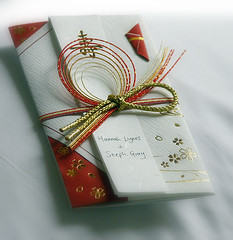 culture the guests are expected to bring cash as their gift. This cash is placed in ornately decorated envelopes. Another example is a Greek wedding. These are generally focused around food, so a good idea for a gift would be a cookbook with some samplings to accompany it.
If you are unable to attend the wedding celebration, it is a good idea to
send a gift
. A wonderful thing about many wedding registries are the gift wrapping and shipping option. It makes it very nice and convenient for you to send your gift with a sweet note.
Celebrating a wedding with a happy couple is a fantastic way to wish them joy and love as they start their new life. Adding a thoughtful wedding gift is a wonderful way help them get started off on the right foot.