Wedding Program Etiquette Tips For An Amazing Experience!
Wedding program etiquette is one of those things that people sometimes miss because it is such a
small detail
to the entire wedding planning process. However, as you know, the small details seem to make the largest difference.
One of the first decisions you need to make is to choose whether the wedding program will be formal or casual. Depending on your choice, it will dictate how you want to do the programs.
So, let's break it down by either formal or casual.
Formal Style Program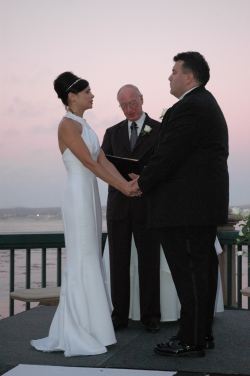 If you are going to do more of a traditional, formal type of wedding program, then you will want to follow these wedding program etiquette rules pretty closely.
To begin with, a formal style program will use proper titles. So, people that are participating in the ceremony or those that are part of the wedding party will have their names preceded by Mr., Mrs, or Miss. If the person is a doctor, then Dr. would be appropriate.
Also, if it is unclear who a person is in the wedding party, it is appropriate to state the relationship. So, if one of the Groomsmen were a brother, it might read like this: Mr. John Smith, Groom's brother.
Usually with a formal program, the ceremony order will be listed on the left (including any readings or music) and the wedding party will be listed on the right side.
The wording at the top of the left side of the program will say something like:
The Wedding Unity Ceremony
(Bride's Full Name)
and
(Groom's Full Name)
(Date)
(Time)
(Location)
If you follow those steps, that should alleviate any concerns and ensure that your wedding program manners are the way that they should be.
Causal Style Program
When it comes to a casual style program, there are not a whole lot of rules. In fact, many and many wedding couples are choosing this style as they feel that it fits their theme or their personality a little better than the traditional style.
These days it is not uncommon to see inserts in the program having lyrics to a song they like, poetry, or even an explanation of the ceremony if there are many people with different beliefs.
It is a fun thing to see people do some creative things these days. Whether it is adding colors that match the reception and wedding, or even adding some kind of fancy decoration.
We were recently invited to a wedding that had a theme of peacock feathers. There were peacock feathers on the invitations, programs, and reception plates. It was a nice touch that added some style and flair to the experience.
Personally, I prefer the casual style as it allows more room for creativity and expression.
Do you have a favorite story, scripture, or famous quote? That can add a nice touch to these kinds of programs as well.
Wording is far less important on something that is more casual. Just go with what works for the situation and is appropriate.
I hope these wedding program etiquette ideas help you with your special day!