Wedding RSVP Etiquette
~Repondez S'il Vous Plait~
Wedding RSVP etiquette is for
both
the bride and groom, as well as the guests. Following a few simple guidelines both parties will be able to communicate the invitation and the acceptance or regrets in a timely and fashionable manner.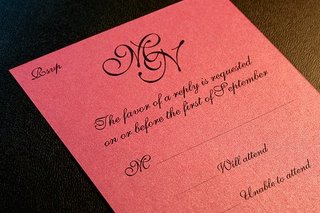 First and foremost,
what does RSVP stand for
? RSVP are the initials for the French phrase,
"Repondez s'il vous plait"
, which, translated, is
please respond
. When you place RSVP on an invitation, you are politely asking your guests to please let you know if they will or will not be attending.
Why is an RSVP necessary for a wedding?
In many cases, the bride and groom are relying on a count of guests that will be attending for seating, catering and actual room size. It is good wedding etiquette for them to know these numbers so that they can plan accordingly.
Are there different methods for RSVP?
Back in the day, when a wedding invite was received, the guest would reply with personalized stationary. Modern wedding RSVP etiquette is much different. There are many ways that an RSVP can be sent. Traditionally the bride and groom place an RSVP card in with the invitation. There are more options available now. It is acceptable to set up your RSVP on a wedding website or have an email address available. In doing that, you will need to be sure that your guests are computer savvy. Giving a telephone number for RSVP's has become more popular recently.
What should an RSVP card look like?
This is a good example of what a formal wedding RSVP etiquette should look like:
M_______________________
(The M may be eliminated from the line, especially if many Drs. are invited)
___ accepts
___ regrets
Saturday the twenty seventh of March
Lakeshore Reception Hall
A less formal RSVP could include something like this:
The favor of your reply is requested
by the twenty-second of May
M_________________________
_________will attend
The card should include the date the RSVP is needed. If you are sending a card, it shows good wedding RSVP manners if it is addressed and pre-stamped for return. If you are using email or an RSVP service, include the email address or web-address. You may also want to leave a blank space on the card for your guests to add a special note.
What if your guests do not respond by the date specified?
There are always those who do not respond in a timely manner whether they lost the card in the mail shuffle, or they don't think it is important. It is very appropriate to call them after the deadline has passed. This would be a great way to use your parents or bridesmaids.
What is good wedding guest etiquette for the RSVP?
Guests, the bride and groom are counting on your response so that they will know who and how many. It is good wedding RSVP etiquette to respond well before the deadline, even if you will not be able to attend. Pay close attention to how the invitation was addressed, because that is who is invited. It is not good wedding guest etiquette to bring along someone who wasn't invited. If you have any questions, call the bride to make sure.
Good wedding RSVP etiquette is
one more way
to show the bride and groom that you are honored to be included in their special day. They will be so happy to know that you are making time for them.