Wedding Shower Gift Etiquette
Wedding shower gift etiquette will help you know what to give the bride-to-be when you are invited to her bridal shower.
Wedding bridal showers are usually thrown by the maid-of-honor, bridesmaids or the mother of the bride, as dictated by wedding shower etiquette. They are smaller gatherings when you can let your hair down and have fun before the wedding day.
Wedding showers are said to have started when a couple desired to marry, however the father of the bride did not approve of her choice. Her village would 'shower' her with various gifts to help her prepare her dowry. These items would help the couple begin their new life together.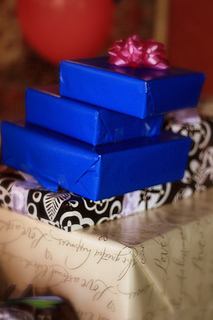 So it is today, a wedding shower is a time when family and friends shower the bride with gifts to help her get ready for her new life. Wedding shower gift etiquette states that the gifts do not need to be just for the bride, they can be for the couple.
The type of gift you will give her will depend on the type of shower that is being thrown for her. Most of the time the showers follow a theme (time of day, holidays, personal, etc.) and the gifts should be in line with this.
Also included in the invitation will any registry information for the bride and groom. The registries will give you an idea of what they need or would like for their wedding. The inclusion of this information is good wedding etiquette.
A common question is, "Do I need to buy a present for the bridal shower and the wedding?" If you are a close family member or friend the answer is, 'yes', if you can afford it. Wedding shower gift etiquette is shown when you give a gift from the heart. It does not need to be expensive, nor does the wedding gift itself. Use your creativity. You will find some wonderful gifts that are not expensive, however carry a lot of meaning.
As a guest to a bridal shower, use good rsvp etiquette and respond in a timely manner. The person throwing the shower needs to know the numbers for food, so be sure to let her know if you will or will not be attending.
As the bride-to-be, you will be expected to open your gifts in front of everyone. If you are like me, the spotlight is not where I like to be. However, this is a time when you need to suck it up and enjoy being the center of attention. Your guests want to see your reactions when you open the gifts they have brought for you.
Now if you open a present that you would rather not share with everyone (especially if moms and grandmas are present),
it is acceptable to keep it in the box
and make a cute remark about letting everyone's imaginations run wild. That will give a good laugh, but keep things acceptable.
Wedding showers are a the best time to
give the gifts that mean the most to you
. As it is a more intimate setting, the bride-to-be can relish the gift and the time with her closest family and friends.