Dating Advice For Men
Make A Good & Lasting Impression
Here is some dating advice for men...
women love a gentleman
. There are a few simple things that you can do as you prepare for your date, pick her up and how you treat her that will make a good and lasting impression on that special girl.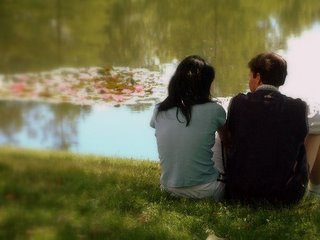 Preparing for your night out starts with an acceptance. Asking a special girl out can take a lot of courage, however it is worth the gamble. When you are asking her out,
be confident
, have a game plan and be true to yourself. It is okay to be creative, however a simple, "Would you like to go out with me?" works really well as dating etiquette.
Once she has accepted, it is time for you to get ready.
Plan ahead
. This is very good dating advice for men. It is so important that you decide what you are going to do and where you are going before you leave. If you need reservations for the restaurant, make them. If you need to know what time an event starts, find out. A girl is very impressed by a man that has a plan.
The day has arrived and it is time for you to get ready. You want to impress this girl right? Make sure you are clean and smell good. Get a haircut if you need to. It is worth a little bit of extra time and care. She will notice how you smell, if you shaved, and how your hair looks. Take some time also for some fashion etiquette. There are things that are important to girls, like matching clothes and nice shoes (they
always
look at your shoes). Your clothing and dress are a true reflection of how much you care to be out with her. Be sure to dress for the occasion. There is no need to show up in a tuxedo when you are going out for a fun dinner and entertainment.
Next,
be on time
. A girl may make you wait, it is in their nature. However you should never make them wait. If indeed something comes up that will delay you (traffic, work, mom calls at the last second) make sure you call her to explain. Give her an estimated time of arrival. This is good dating manners. When you do arrive, be complimentary and courteous with her. Tell her she looks nice. She will feel so special even before you walk out the door.
Always be a gentleman
. Some women are not used to a man treating them with respect. You will have the advantage if you do simple things for her. Opening the car door is a great start. Make sure she is comfortable. As you arrive at your destination, hold open that door too. Allow her to go first and then help her be seated at the table. Be sensitive to each woman's reaction. Some women are not used to men doing things for them. If they are absolutely not comfortable with it, then just be courteous.
First date conversations
can be a little tricky to negotiate. Read up on current events and things that you know she is interested in. Ask just enough questions to make her feel like you are interested in who she is and what she likes.
Be a good listener
. It doesn't do the conversation any good for you to ask a question and not know what she has said. It is okay to talk about sports and what you are interested in, however if she is clearly not interested, move on to the next subject. Good dating advice for men is no swearing, no arguing and no talking about other girls. Be respectful, even if you don't hit it off right at first.
It is so important to have fun on a date
. The most memorable dates I have been on have been simple, full of good conversation and doing things that we enjoyed. Try new things. A girl loves a guy with a sense of adventure and who will step out of his comfort zone for her. Recently my husband and I attended a wedding. He is not comfortable on the dance floor, however he was brave for me and we had a great time dancing.
It was a night I will not soon forget
.
What if you don't hit it off with her? Most importantly,
stay true to who you are
. Do not change yourself to be what you think she wants. Some dating advice for men would tell you otherwise. You will never be happy in a relationship like that. Next, don't argue, belittle or fight with her. Just simply end the date early if it is really terrible. I have a friend who picked up a girl for a date, he found out that really wasn't what he wanted to take out that evening, turned the car around and dropped her off. He ended up calling one of his friends (who happened to be a girl) and had a great evening with her. It is okay to do that rather than waste your time and money.
So here you are at the end of the date...
what do you do
? Again, good dating advice for men is to relax and be a gentleman. One time I went out with a guy, we had a great time, however the entire ride home the poor guy was gripping the steering wheel, completely white-knuckled because he was so nervous about the dreaded door-step. It was pretty funny once I figured out what was going on. Tell her you had a good time. A simple hug or handshake is totally appropriate for the end of a first date. If you are intending to call her, let her know. If not,
do not say you will call
! That is some of the best dating advice for men. Leaving someone hanging is not the gentleman's way.
Dating should be a fun experience
. Following this dating advice for men will help you have fun and be you. It is the time when you are finding out who a person is and if you want to spend more time with them. It is also a time of self-discovery. You will learn so many new things about yourself as you learn about a special girl. Take your time, don't rush anything. A gentleman always makes a good and lasting impression on a lady.