Engagement Announcement Etiquette
~It's Time To Tell The World~
Engagement announcement etiquette gives a happy newly engaged couple the guidance they need to tell the right people at the right time the best news of their lives.
So who do you tell first? Good engagement announcement etiquette will have you tell the bride's parents first. If the groom followed good tradition and spoke to her father beforehand, then they will have the heads up. However, a visit or a phone call to gush over the details with her mom is always good manners. Next you should call or visit the groom's parents. They will be just as excited to hear the news.
The only time that the parents are not told first is if either the bride or groom have children from a previous marriage. They should be the first to know from their parent. It is best if that parent tells them alone, as they will be able to handle the emotions, good or bad, that follow from their child. It is necessary to understand that this may be a difficult thing for the child to accept, so reassure them with your love and commitment to them.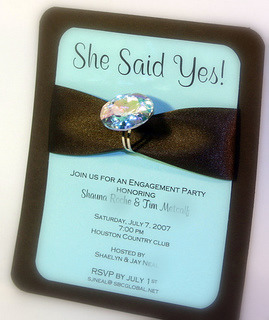 Next come the grandparents. They will love that you used good engagement announcement etiquette and brought the good news to them. It will be a special time for them to share their story and their advice. Listen to them, as they are seasoned veterans.
Your siblings and other close family members will be so excited to hear the news next. Phone calls and texts are all good in this situation.
The close friends, who have been waiting patiently for him to pop the question are next on the list. Again, phone calls and texts are appropriate ways to spread the news here. You had better be prepared to spend the next few days on the phone repeating all of the details for them.
After all of your closest family and friends have been told, engagement announcement etiquette also has you spreading the news on a grander scale. There are are few ways that this can be done.
An Engagement Party
This is one of the best ways to share the news. There is nothing like telling your good friends and family that you are engaged than when you are all together. You will get the joy of seeing their faces and also being able to talk to them all. It is also a great time for your engagement ring etiquette and show it off to everyone. Make sure that you do this at a party of your own accord. It is bad engagement manners to share this news at someone else's party.
A Wedding Website
These are becoming more popular and acceptable. You have so many options available as you share your news. Many websites offer you the ability to create and personalize your own page. It is also a great way to keep everyone up to date on the wedding plans that will be forthcoming. Once you have your site up and running, blast out an email with the web address. Unfortunately not everyone has a computer, so sending an announcement card to them is good engagement announcement etiquette.
Publish The Announcement In The Local Paper
Some papers have guidelines that you will need to follow, so call them first. They will let you know the deadline, when to publish and what information you can share. It is acceptable wedding etiquette to avoid stating the date. It is okay for you to state that the upcoming wedding will be in the fall or spring, for example. Usually the information that they need is your names, your parent's names, a picture, your hometowns and your careers.
Mailing Formal Cards
The great thing about these cards is that they can double as a save-the-date card. Be sure that those you send the card to will also be those that you invite, it is just good engagement announcement etiquette. You can purchase preprinted cards or make your own. It is up to you and your level of creativity.
Once the announcement is made, the planning begins.
Best wishes on a fulfilling and happy engagement.